Online Education Resources for New Web Developers
What is a Web Developer?
According to the US Bureau of Labor Statistics, "Web Developers create and maintain websites. They are also responsible for a website's technical aspects, such as its performance and capacity, which are measures of a website's speed and how much traffic the site can handle." Web Developers and Programmers are an integral part of everything that we do on the Internet. They are the creators behind writing web pages, creating video games, and building websites. They are not only responsible for coding web pages and video games, however. In order to code any website you look at, they also have to have basic design knowledge.
If you are interested in a web development career, you need to understand the basics of HTML and CSS, as well as design principles and how the user is going to interact with the website or program. Web Developers and Programmers are racing to the top out of the tech industry. That's why every aspiring Web Developer Programmer needs to learn everything they can about this role.
Web developers are in high demand meaning formal education requirements like a college degree are less important than your technical skills these days. To become a successful web developer, you no longer need a bachelor's degree or even an associate degree, just a passion for the world of web development and the necessary skills. 
What is a Web Developer?
Almost everyone wakes up, reaches for their phone, and interacts with other people through the Internet every day. Through every new online interaction, an individual or business makes, it becomes easier for consumers to get what they want and to accomplish their goals. For consumers, it is easier to look for and obtain products and services and interact with one another. As for businesses, the Internet presents a chance to reach a worldwide audience and maximize profits.
Web developers spearhead the digital economy by designing & developing digital products, websites, and web bases software. They allow consumers to find and engage with the organizations and products they are looking for quickly and easily using the internet.
What Does A Web Developer Do?
Let's go a little more in-depth into a Web Developers' role. They are the architects of every website you see. The Stereotype of a web developer sitting in a dark room type and code all day and never seeing sunlight is a thing of the past. Many professional developers meet with clients and other team members to clearly understand the parameters of a given project. By studying a site's structure and organization, they can find room for improvement and build from there. There are four different roles a developer may take; front-end web developers, back-end, web interface, and webmasters.
A back-end developer works on the basic function of web pages and paves the way for others to use developing tools with ease. Front-end development works on the look and functionality of a webpage. This is different from a web interface designer, whose main role is to take what the front-end developer created and put the finishing touches on the fonts, layout, and graphic design while testing usability. Finally, a webmaster is responsible for making sure the website continues to work correctly after all the initial coding has taken place.
Aspiring web developers should view this field as an opportunity for versatility. Those interested in stepping into one of those four roles should acquire as much industry knowledge and experience and decide which role they want to take on. 
The Web Developer Career Path
While some students enroll in web design classes without any intention of pursuing a career in web development, there is an extensive range of course curriculum, from coding basic landing pages and user interface to HTML, CSS, and JavaScript design. Developing basic knowledge of web page design and code may or may not require those who enroll in the course to take more than one class.
We recommend that those who enter web development courses without an interest in marketing or software development, study computer science to understand the theory of web development. Studying computer science can formulate essential skills needed to become one of the four different types of developer and help find which one you are drawn to the most. After gaining some experience, students may choose an educational path that they are the best at and most enjoy.
Good Web developers are in high demand and with the right training and experience, you could have your pick of several jobs and work environments. Developers can work in offices others work from home and some are location independent and can work from anywhere in the world. 
There are lots of free resources on the internet, such as job boards and forums, which can help new Developers find jobs based on the type of work they're looking for.
Web Developer Salaries
What does the typical pay for a Web Developer look like? The median salary of a web developer can range from around $40,000 per year to over $140,000 per year. With a high wage can come high responsibility. Many web developers may have to work long hours and overtime to complete their tasks, like many other jobs. Web developers who earn top dollar have worked their way up, put in many hours of learning, and have gained years of experience. Overall, web developers have plenty of opportunities to make a living and work their way up to have an exceptional income. Pay rates vary depending on a web developer's skill level and certifications, but most companies typically pay $40 an hour or more for web developers.
Web Development Job Prospects
Web developers can go from entry-level employees to making tens of thousands of dollars working in various aspects of the field. Web Developers' job opportunities are on the rise, with top web development companies posting job listings and hiring daily. According to the BLS, "Employment of web developers and digital designers is projected to grow 8 percent from 2019 to 2029, much faster than the average for all occupations." 
Like many fields of work, some kind of entry-level work is required, such as an internship. After that, a typical next step in the career of a web developer would be "Junior Web Developer," "Software Engineer," or "Full Stack Developer," with the words "Entry-Level job" on the front end.
Not having a degree means you will need to have a strong portfolio of work demonstrating your skills and value to a potential employer.  A professional portfolio should highlight your programming skills and mastery of common programming languages showing the different types of work you have completed. This should include a portfolio site including samples of source code you have written. Many new web Developers gain experience freelancing on some of the popular gig economy sites like fiverr.com and upwork.com. 
Being a web developer is a gratifying career. It's pretty hard to argue with the impact technology has had on the world in the last decade. In today's competitive job market, the companies that offer the most enriching and lucrative opportunities will pay the top dollar if you can help improve their company's website. A web developer might work full-time in a technology department or choose to freelance. Travel is even a possibility if the developer decides to freelance.
8 of the Best Online Web Development Courses for Beginner's 
Here are some of the highest-rated web development courses online to help you get started on your journey to becoming a professional Web Developer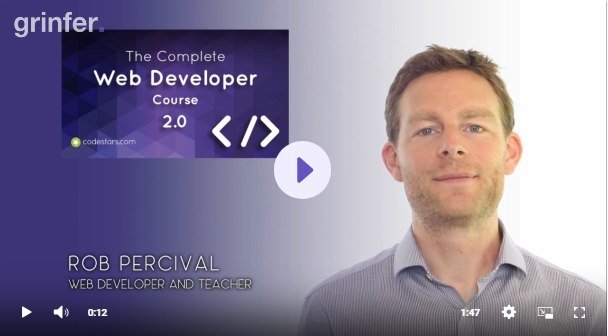 The course is taught by Rob Percival, a Cambridge-educated mathematician, and self-professed code geek.
This is an at your own pace course with over 30 hours of mobile-friendly content and 100% online. They're also downloadable resources, quizzes, and practical exercises to help you learn.
Is this course for you?
No pre-knowledge is required – enthusiasm is all you need!

A PC or Mac is required

No software is required in advance of the course (all software used in the course is free).

Lifetime access
Taught by industry professionals with years of experience, Job Ready Programmer is a membership site That grants you access to all their courses for a low monthly fee. They also offer an Annual Membership and a Lifetime Membership at a discounted rate. Monthly subscriptions are $29 a month, and yearly subscriptions are $15 a month or $189. 
70 hrs of expert video tutorials

Real-world Practical Assignments

Building projects

Advance your professional Skills

Certificate of Completion

Have your Profile Marketed to Recruiters

Become a Job Ready Software Developer

Bitdegree is very different from other online education platforms in that it is structured around blockchain technology. Their basic courses are free, and students earn tokens based on performance and completion of the courses that are used to pay for higher-level courses. The tokens are sponsored by employers who are actively looking for talent for their teams. 
Scholarships are also available, and students can apply to be sponsored by employers.
Their premium and advanced courses are also available for sale and can be purchased using a credit card, PayPal, Bitcoin, and Ethereum. 
Bitdegree has a 4.5-star rating on Trustpilot, with 92% of reviewers rating them as Great or Excellent.
Trustpilot Review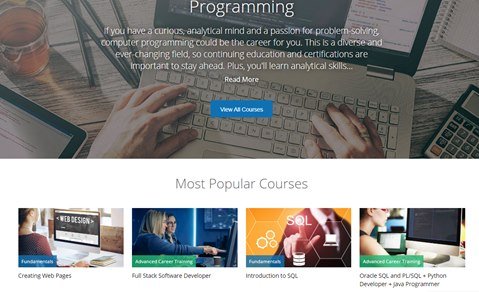 ed2go Is partnered with hundreds of Academic Institutions, Corporations, and Workforce Agencies and offers College-level Certification Courses. Having partnerships with institutions in all 50 states and 16 countries, finding the right course for you is not difficult. They provide both instructor-led and self-paced courses, most lasting about six weeks. 
Edureka has proved itself to be the fastest-growing online course provider in the e-learning space. Offering courses in Big Data & Analytics, Information Technology Cloud Computing, Programming, Application Development, and other trending technologies all taught by highly-rated industry professionals.
Their Web Development Certification Training teaches you how to create impressive websites using HTML5, CSS3, Twitter Bootstrap 3, jQuery, and Google APIs and deploy it to Amazon Simple Storage Service(S3). You can earn a Web Developer certificate after completion of this Web Development training. Included with this Web Development course are complimentary pre-recorded modules of JavaScript Essentials.
Trustpilot Review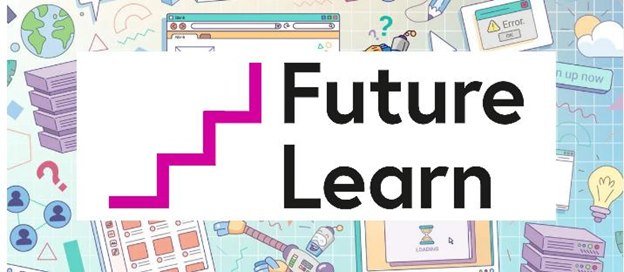 FutureLearn offers a diverse selection of structured, high-quality online courses from the world's leading universities, business schools, and specialist organizations. Future Learn also offers certification and online degree programs as well.
In this course from the Raspberry Pi Foundation, you'll first build a website using HTML, style it with CSS, and then make it interactive using JavaScript.
Along the way, you'll learn about the box model, which describes how websites are laid out by browsers, and about the Document Object Model, which your JavaScript code will interact with to change your web pages dynamically.
In the final week, you'll design and create a quiz web page and demonstrate your new skills by making your own website.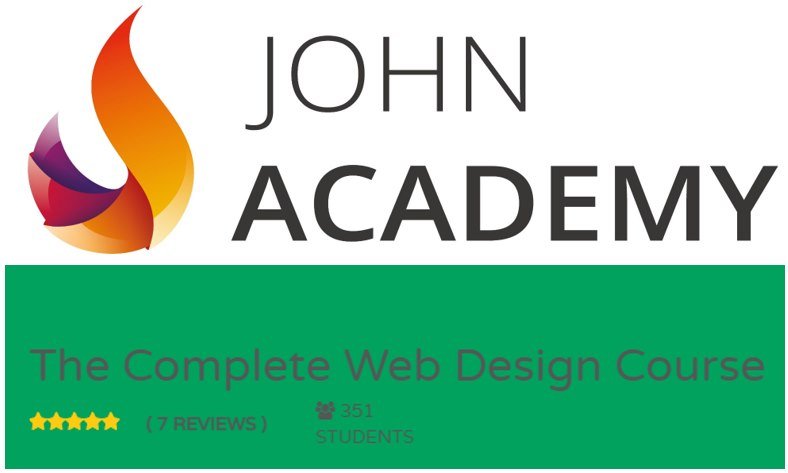 John Academy is best known for offering IAO & CPD accredited online courses that are available for anyone wishing to acquire a certification to take their professional career to the next level. As an online learning platform, they allow anyone to learn conveniently – wherever they are and whenever they want.
The Complete Web Design Course
In the 21st century, web design is one of the most influential aspects of your online presence. HTML 5 and CSS 3 are the primary foundations of the websites. And with the help of Bootstrap, you will be able to design and develop responsive websites.
Master the advanced techniques of HTML 5, CSS 3, and Bootstrap for designing attractive and professional web pages by enrolling in the Complete Web Design Course course.
With our comprehensive course, get started on the journey to web designing. Explore the strategies of developing fascinating websites using HTML 5 and CSS 3 and make your websites responsive using Bootstrap. Additionally, you will look at some general rules to keep in mind while designing web pages.
Upon completion, you will be able to design any type of website using HTML 5, CSS 3, and Bootstrap.
This is Udemy's best-selling course on web development. You will learn from Dr. Angela Yu, the lead instructor at the London App Brewery, London's leading Programming Bootcamp. This course offers 54 hours of on-demand videos with 80 companion articles and eight downloadable exercises. You will be fluent in programming and be ready to make any website you can dream of. In the words of one reviewer, "Angela's web development course is amazing. The breadth and depth of the course is remarkable. She is a gifted teacher who is charismatic, engaging, and fun to watch."
Once you've successfully completed the course, you will be able to:
Build ANY website you want.

Craft a portfolio of websites to apply for junior developer jobs.

Build fully-fledged websites and web apps for your startup or business.

Work as a freelance web developer.

Master back-end development with Node

Master front-end development with React

Learn the latest frameworks and technologies, including Javascript ES6, Bootstrap 4, MongoDB.

Learn professional developer best practices.
Final thoughts
Whether you want to become just a web designer or a full stack developer, or a software engineering mastering a popular programming language, the good news is a new career or career change is readily at your grasp. With hard work, a successful career in the web development field with a high average salary without the educational requirements of a computer science degree can be yours. Web development jobs are growing rapidly, and a future employer will need to offer a work environment similar to that of Silicon Valley.