You must either modify your dreams or magnify your skills – Jim Rohn
Why are Professional Certifications Important
Competitiveness for entry-level, low-skilled jobs is always high no matter the economy and during a downturn or recession they are the first to go.  Having advanced training and the most profitable skills are always a plus in your favor when it comes time to fill a position or thin the workforce.
In many ways, Advanced Training for your chosen career field is no longer optional. With the popularity and ease-of-use, online learning sites have quickly become the preferred source of advanced education. 
There are hundreds of different certifications available online. We've listed the most sought after and highly recognized certifications available online and why you should consider them.  Some are structured with assignments and deadlines but most allow you to work at your own pace.
With video tutorials and online courses materials you can learn almost anything over the internet  with nothing more than a smartphone.
With the rapid pace of technology and the ever-changing job market the benefit of being a lifelong learner is more important than ever.
Here are 14 certifications you can learn online to enhance your career.
1. Project Management Certification
A project manager leads successful projects in many industries  like Construction, Manufacturing, Aerospace, Software Development and Information Technology(IT). Project managers Work with  many different aspects of a  project from budgeting and planning, to scheduling and executing, and then reporting on what's happened. For example, IT projects include hardware and software updates and upgrades, rolling out new software, and installation of security patches. A project manager not only keeps the project organized and on task, but needs people and management skills to keep a team productive.
The skills needed to become a successful project manager can be gained through the Global Association for Quality Management. This association is a nonprofit organization which offers a variety of certifications. These certifications include resource allocation, the ability to adapt to change, and effective communications skills. These programs are designed for new project managers and those who would like to advance their skills and knowledge. You can complete these certifications on the Internet, and they require no previous experience or education.
The cost for programs such as these vary, but $300 per certification is a starting point. As with other certifications, shop around for the best deal. Depending upon your current career, these certifications can help you become more valuable to your company and to your career goals and career development. They are also some of the most high paying skills to learn.
2. Microsoft Excel Certification
This certification's price varies depending upon the country in which he/she takes the exam. Around $100 is the average price for this certification. This certification exam is focused on the most popular spreadsheet program in the world. So, completion of this certification is important for career development goals and many professional jobs. The exam measures such competencies as creating, managing, and manipulating worksheets to one's advantage. One with competencies in these areas has a definite career advantage, depending on the chosen career.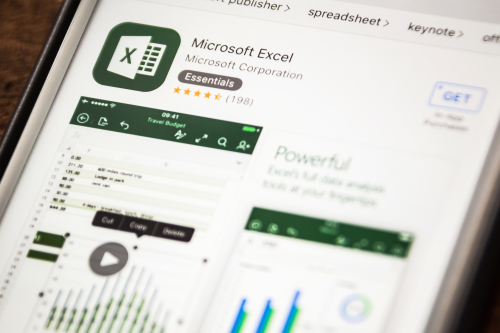 Many professional positions can benefit from this knowledge because of the analysis capabilities of raw data and graphical output. For example, financial statements can confuse many people, but using the charts and graphs features Excel the raw data can offer effective insights that a list of numbers cannot. Knowledge gained in a Microsoft Excel Certification can help a financial analyst or other member of management to explain what the numbers say. Microsoft Excel can be one of the highest paying skills you can learn, for both your professional career and your personal finances
3. Business Analysis Certifications
The Business Analysis Certifications are designed for Business Analysis Professionals that are serious about their professional development. Several certifications are available from entry level to those with years of experience.
Among others, examples are (ECBA) "Entry Certificate in Business Analysis" only requires 21 hours of professional development education prior to sitting for the exam. There is also the (CBAP) "Certified Business Analysis Professional" that requires 7500 hours of work experience and 35 hours of professional development education among other requirements.
Having a Business Analysis Certification increases the employability of an individual. It also increases evidence of one's ability to tackle complex projects, work with stakeholders, drive business processes, and identify business opportunities. According to the IIBA (International Institute of Business Analysis) website, earning this certification is one of the most profitable certifications skills to learn. On average, persons who hold this certification can expect around 13 percent higher earnings compared to those who do not hold the certification.
One of the biggest challenges of the Certified Business Analysis Certification is choosing which certification works best with your interests, career goals, and experience. This requires a certain level of introspection, knowing yourself, and your short and long-term goals. Knowing yourself can be accomplished through personality analysis, speaking with acquaintances, and/or competency tests available professionally or over the Internet.
4. Supply Chain Professional Certifications
As a supply chain professional you are the engine that drives industry forward. Being certified demonstrates that you have the knowledge of the essential technologies, strategies, and techniques required to manage extended and complicated supply chains. Supply chain professionals need the knowledge and understanding of the business of Supply Chain management  focused on productivity and efficiency.
Certifications including the APICS certifications that offer several certifications from which to choose. To select the certification right for you and your situation, talk to a professional in the supply chain field. Each certification focuses on a slightly different viewpoint/area of supply chain management. These areas include general supply chain management, inventory management, logistics, procurement and order management.
While these certifications requirements are not necessary to work in supply chain management, certified individuals can expect to earn 21% more than non-certified employees . For instance, if an employer is hiring supply chain employees, he/she will pick one with a formal certification. The reason for this, according to supply chain professionals, is managing a company's risk when hiring employees.
5. Six Sigma Certification
A Six Sigma Certification shows your commitment to increasing your analytical skills and business acumen, not to mention improving the business where you work. Six Sigma training for managers can help eliminate defects and errors in manufacturing and processes. Six Sigma helps an organization reduce their business risk. A Six Sigma Certification can help an organization identify defects and errors in both the manufacturing process and the administrative side of the business. Both aspects can save the company a lot of money by identifying inefficiencies in processes.
It is understandable that a certified individual can not only save the company money, but foster the individual's rise to a management position. Skills that six Sigma training provides are valued by top and mid-level management and can serve as the basis for promotion to senior management positions. According to indeed.com, persons certified in six Sigma usually are paid over $100,000 per year. The increased salary can benefit one's career and well-being.
Salaries of those trained in six Sigma range from $62,000 annually for a white belt to $99,000 yearly for a black belt. Other levels include yellow belt, Green belt, and two levels of black belt. Six Sigma techniques are used across many industries, including marketing, banking, electronics, aerospace, and human resources and can be one of the most profitable skills to learn.
6. Human Resources Certifications
In one 2018 study, The Human Resource Certification Institute found that nearly 1/3 of human resource professionals have at least one certification from HRCI. Advanced level human resource professionals likely have a human resource credential. In fact, a third of human resource managers are certified while over half of HR Vice-Presidents are certified.
A certification in human resources offers a boost in pay. But that pay increase will vary by credential, work location, industry, and job level. The certification one receives helps determine the pay boost received by the employee. For example, a Certified Professional Coach will see an average pay boost of 28 percent. A professional in human resources will only see a 2.9 percent pay boost.
A trend over the last 10 years suggests that it is increasingly valuable to get additional certifications. This certification may help achieve some career development goals. Not only direct money incentives, but the promise of career progression awaits those with human resource credentials. Several industries have reported percent pay boosts for certification holders including healthcare, transportation and warehousing, education, finance and insurance, and manufacturing. These industries average a 29.5 percent pay boost to certification holders.
7. Sales Certifications
Experience is often the best teacher. But you can stand out from the pack if you have formal training and/or a sales certification on your resume. For those who want to make a career of sales, a sales certification course can be just the needed thing for you to advance to the next level. Sales certifications Not just sales training but helps increase your leadership skills and provide the knowledge for this advancement.
The perks of a sales certification Is that it tells the employer you are a sales professional who wants a leadership role with the company. You should realize these sales certifications can increase your skills and enhance your career development. For example, a sales certification can help earn you more responsibility and pay, but you need to walk the walk once in your new position. Everyone uses sales techniques, but a certified salesperson does the "little things" that an uncertified salesperson may not.
8. HubSpot's Inbound Certification
The inbound certification by HubSpot marries the right sales prospect, the right content, and the right time in the buyer's journey. When all these things come together, you are helpful, trustworthy, and knowledgeable. These three things make it easier for a sales relationship to form. This inbound paradigm includes the components of attraction to the product/service/seller, an engagement with the product information and the salesperson, and being delighted after the sale. Subsequently, sales content and interpersonal strategy is developed to meet each stage (attraction, engagement, and delight).
Benefits to your career include more effective outside sales, better relationships, and more effective inside sales. Anyone who wants to advance their career is advised to consider HubSpot's Inbound Certification for sales growth and personal growth. The program comprises 34 videos and nine quizzes. Therefore, the participant should probably plan for no less than one week to "do the course justice". The skills learned in the course can be used for persons with a sales position and those not in sales.
9. Salesforce Administrator and Developer Certifications
 Sales-Force and Developer certifications offer the recipient three value adds. These certifications help during a tight job market because they allow you to become an expert in these areas. The certifications offer flexibility because you can become certified in months, hours, or a few days. You also have the choice to get a bundle of certifications or just one certification. Analyze your job/knowledge situation to figure out which certification (s) are right for your situation.
 Salesforce certifications are geared toward administrators, developers, consultants, architects, and marketers. Most sales-force tracks offer standalone certifications so a candidate can show expertise in a certain area. Prices for the salesforce Administrator and Developer Certifications average around $200 each. If a retake is necessary, each retake will cost around $100.
10. Team Leadership Certification
 Anyone who aspires to a career in management or leading a team should get such a certification. In fact, even if you have been a team leader for a while, you could benefit from this certification. Modules for a team leadership certification can include topics such as effective recruiting and on boarding of new employees, building and leading teams, and motivating your team. Additional subjects include effective delegation, measuring and managing performance, which includes performance evaluations and addressing performance issues.
 Team leadership certifications also include avoiding unhealthy workplace conflict and managing this conflict when it arises. Avoiding and managing conflict involves being aware of and classifying behavior into categories, so the behavior can be managed. This certificate in team leadership can be earned by itself or combined with other business leadership courses. Expect to spend from $500-$2000 for such a course.
11. Copywriting Certification
Getting a copywriting certification will always be in high demand because writing well is in high demand in every facet of business. Copywriting certification is a bonus, especially in areas such as customer service, sales, leadership, and marketing. If you want to excel in any of these areas (plus more), you should realize that writing has a huge impact in various situations.
Good copywriters feel comfortable and can excel with writing and editing, evoking emotions and grabbing attention. They can break down complicated concepts into simple explanations. Other skills needed are good research skills, empathy and understanding people and situations, an understanding of marketing concepts, goal setting, and content analyzing.
Prices for a copywriting course range from free to around $1000. In this situation, perhaps the old adage "you get what you pay for" applies. Some courses simply try to show you techniques while other courses are very thorough, asking you to produce a portfolio of your work by the end of class. In addition, some places offer introductory courses and advanced courses. These may be worth looking into depending upon your situation.
12. Public Relations Certificate
These programs are usually designed for individuals who already have a bachelor's degree in a related field. However, if you are working on a Bachelor's Degree or are working in public relations, then the certificate may be for you. If you have 20–40 credit hours of college, the certificate program may be a suitable alternative. Individuals pursuing a public relations certificate may learn to prepare media tours, news releases, and write pitch letters.
Even if you are pursuing a four-year degree or have already graduated, these certificate programs can require submission of transcripts and letters of recommendation. Standardized test scores, employer recommendations, and personal statements may also be required. Besides going to a physical classroom, these certificate programs are also available online.
If you just earn a public relations certificate, you will have you will better be able to compete for the best jobs. You can also become a certified public relations professional through university programs and other online programs. In addition, through the traditional university system, students may "get ahead" by joining organizations on campus directed toward public relations.
Public relations professionals typically earn between 45k to 100k annually Making it a high paying skills to learn. The Bureau of Labor Statistics predicts employment for public relations  professionals will grow up to 6 percent between 2014 and 2024 creating 14900 new jobs
13. Machine Learning Certification
Machine learning involves getting computers to do what you want without being programmed. This field and certification is booming because of increased importance placed upon automation and artificial intelligence for everyday uses. With a certification in machine learning, you can tackle such problems as problem-solving with machines, deciding with decision trees, improving and debugging machine learning models, and deep learning.
Machine learning certifications require foundational linear algebra, an understanding of probability distributions, and multivariate calculus. A knowledge of algorithms and Python coding is helpful. If you are already a statistician, developer, programmer, or data analyst, a machine learning certification may be the right fit for you.
14 AWS Certification
The AWS (American Welding Society) has several certification programs which document and recognize various welding related disciplines. Certification involves evaluation and testing of common welding procedures. Subcategories or endorsements in the welding field include railroad, pipeline, and aerospace choices for the student.
An AWS certification can give you more job opportunities, better job security, broader career path options, and higher pay. These certifications show that you are serious about your welding career and are already improving your welding skills. AWS certifications include welding supervisor, robotic arc welding, welding sales representative, and a certified welding educator certification.
You will make an impact on people's daily lives with an AWS certification. Welding careers contribute to society and are constantly shaping our world. Welding even impacts the nation's economy. The overall demand for well-trained welders is steadily growing. In fact, our nation will need more than 375,000 welders by 2023. An AWS certification shows that you are seriously considering ways to be part of this growing trend.