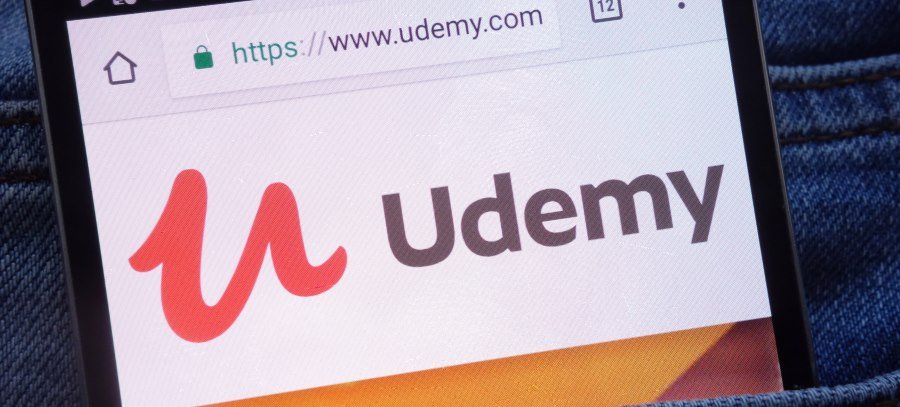 E-learning has exploded over the few years, with many people looking for ways to gain new job skills without going to College or University. Founded in 2009, Udemy is at the forefront of these e-learning platforms but is taking any of their courses actually worth it? 
With a few tips and a little patience finding Great Courses on Udemy is totally worth it. Although there are mixed reviews about Udemy, if you know what you're looking for, you can find top-quality instructors that offer phenomenal courses for almost any subject you wish to learn that range from job skills to hobbies and lifestyle.  
In this Udemy review, we will cover various aspects of Udemy, including its courses, instructors, platform, and legitimacy. Finally, going through all its pros and cons offers you all the information you need to determine are Udemy courses worth it for you and shows you some tips on finding the best courses.
Udemy overview
If you don't already know, Udemy is probably one of if not the largest and most prominent online learning platforms. Founded in 2009 by Erin Bali, Oktay Cagtar, and Gagan Biyani, as of February 2021, Udemy has over 40 million students spanning 180 countries, with 2/3 of its students from outside the USA. They have 70 Thousand instructors are offering 155 thousand courses in 65 languages. 
Before we dive into the core aspects of Udemy as an online platform, its instructors, and its courses, determining whether or not some or all of the courses are worth your time and money, let's take a look at how legitimate they are and who uses them.
Is Udemy Legitimate?
If you're wondering if Udemy is legitimate, there are many articles covering the subject just with a simple google search. Udemy is, without a doubt, totally honest and has had accolades bestowed on it from the likes of Forbes and Mashable. Many fortune 500 companies, international companies, and many household-name companies use Udemy to educate their staff in specific business or personal development fields. You may know some of these companies like Mercedes-Benz, Volks Wagen, Pinterest, Adidas, Booking.com, and more.
Is Udemy Accredited?
No, they are not accredited. The nature of their platform it's not conducive to accreditation by any of the traditional organizations. While they do have standards as to what course materials can be presented on their platform, they do not in and of themselves create the courses or control their content. 
The platform is designed as a marketplace for individual course creators to create and sell their courses. However, please take note that this does not mean that their courses are not helpful. You will find many courses by industry professionals and highly trained experts, but by in large, Udemy courses can be created by anyone with any skill level. 
If it's college credit you're looking for from accredited educational institutions, there are several other course platforms available.
Udemy courses
Udemy Offers tens of thousands of courses covering almost any subject you wish to learn, from development in IT all the way through to finance, design, music, lifestyle, personal development, marketing, office productivity, and more. So many courses offer Udemy Certificates that you can download print and are suitable for including on your resume. You will be hard-pressed not to find a subject you can not take a course on through Udemy and its instructors.
Udemy course quality
Here is where things get interesting because almost anyone can create a course and become an instructor on Udemy. It stands to reason there would be thousands of people trying to earn a little extra money by doing so regardless of their expertise with the subject matter.
All you need is to have a 30-minute video course at least (preferably HD but exceptions are made), and your course has to have at least a five lecturer minimum. That's all it takes to become a Udemy instructor (we will cover this in detail in the next section).
What this means that anybody can throw up a course onto Udemy, and it does not have to be that great. Udemy does have a quality control system that checks the courses. Still, with the number of individuals creating and uploading, they cannot always check every course, lesson, and video. Hence, some fall through the cracks, which is why there are so many mixed opinions regarding Udemy.
Many people who have used Udemy say that you can get bad courses with instructors that don't cover what you need to learn regarding a specific subject. However, spend a little bit of time searching through their catalog. You will find plenty of gems among the rough where you will get incredible value for money with courses that have phenomenal instructors at the top of their field with high-quality videos and hours of lessons.
Udemy Instructors
We briefly touched on Udemy instructors, and as we said, anybody in the world can become an instructor. You do not need to have a teaching diploma or degree of any sort for any specific field; you just need to meet Udemys criteria. 
With the appeal of selling online courses and having it generate a second or a passive source of income, many people have flocked towards this. Due to the low criteria that Udemy set for instructors, you have individuals just making courses requiring the bare minimum, hoping to sell their course at inflated prices to make a quick dollar.
Many instructors also create free courses or very low-cost courses as a way to promote their more expensive courses or affiliate products that they get a commission on if you purchase. These could be an excellent way to evaluate an instructor before purchasing their entire course but beware of the scammers trying to sell you stuff you don't need. 
This does not mean there are not highly qualified instructors that know how to teach and understand what they are doing. Many instructors are at the top of their specific field and offer outstanding courses that take you from absolute beginner to a professional.
With regards to this, it is for most subjects that you would like to learn on Udemy, you will find many courses and instructors that are not great, but some are exceptional, and for what they are and the price you pay, it is definitely worth it.  
The Udemy platform
Their course layout and structure also play a role in being able to learn something quickly and easily even though one may not think so. Most of the highest-rated courses have a very structured layout with everything you need to succeed right at your fingertips. This way, you will learn just as much as a structured classroom course at your own pace and in less time. This is especially helpful for visual learners and those with ADHD. 
When you first land on the Udemy site, you will find it neat and simple with a search option at the top asking you what you would like to learn, followed by popular courses and anything that might be on sale. After that, you will see what other students are browsing and the top categories of specific fields. If you've been on the platform previously, you may see course suggestions based on your past visits.
Purchasing a course is pretty much the same as any other e-commerce site. Once you have, you will find all your courses on your dashboard under your account tab labeled "my Learning." 
The course layout is very simplified, with the lesson headings on the right side of the screen and the content centered to the left of that. 
Underneath, you will find sections considering the overview of the course, typical Q/A, notes regarding the course, and announcements. That's it, very neat and compact, giving attention to the content without any fluff or ads of any kind that can distract you from learning which is what your intentions are.
How to find the course for you
With a little guidance searching for the best udemy courses offering a unique learning experience by instructors with a great teaching style is not hard. When searching for a course, I recommend starting with a broad search rather than looking for a particular course and then use the filters to narrow down the list to reveal the best choices. I recommend starting by Sorting the list by "Highest Rated" and then filter by Topic to better target what you're looking for. And then by Skill Level depending on whether you're a Beginner, Intermediate, or Expert you can follow that by Language, Price, Features, Ratings, Video Duration, and Subtitles if you need to refine the search even more.
If you're looking for Cutting Edge new skills for the latest technology or software, try sorting your search by "Newest" this is a great way to find the best new course covering the subject area and specific skills. For instance, data science, the programming language Python, and the development of video games have exploded, and this is reflected by a large number of new courses available.
Once you have chosen a course that best fits your needs, you should watch the "Preview This Course" video and then look for the "Created By" link to the author's bio. Here you will find their instructor rating along with student feedback, reviews, and any other specific courses they might offer. If you would like to take your research a step further, you can Google the course author to see if they have any other presents online. I have found many of the top instructors also have a separate website that may provide additional information about them. 
Udemy's prices and their money-back guarantee
Udemys course prices range from $10.00 to over $200, depending on the course offered. However, Udemy is known for putting all its courses on sale all the time, and if they are not on sale, you can usually find coupons online or wait a handful of days before they go on sale again.
For this reason, you have a good chance of finding the course you want for less than $20. What this means is you can take a course from a top-rated professional with hours of high-quality instructional videos for the price of a large pizza.
Considering the tens of thousands of dollars people spend on college in the United States, Udemy provides an excellent service at a fantastic price. That said, not all the courses are University level; however, there are many that rank just as high that teach you the same skills, if not from a better instructor. This definitely goes for some of the information technology, computer science, and web development courses. 
Udemy's refund policy
If finding good quality courses from top-rated instructors for a reasonable price is still not good enough, Udemy offers a complete 30-day money-back guarantee. This means if you purchase a course, you have up to 30 days if you are not satisfied with it for any reason to get your money back. Correct me if I'm wrong, but no university or college in the world offers that to anyone.
The pros and cons of Udemy
Let's consider all the pros and cons of Udemy, and then we can finally conclude, deciding whether Udemy is indeed worth it and an option that you should seek out on your learning journey.
Pros of Udemy
Udemy is accessible
Gaining access to Udemy and its courses is as easy as possible for anyone across the world. No matter where you are in the world, you can access the Udemy website and your courses (unless your region has it restricted, of course) any time, day or night. You even get the Udemy for Business app that allows you to view over 5500 top-rated new courses from your mobile device.
Udemy offers flexible learning
The great thing about e-learning is that it is at your own pace, unlike going to classes scheduled on a specific day at a particular time. If you like, you can run through a course as quickly as you want or take as much time as you wish. Once you purchase a course on Udemy, you'll have lifetime access on your account with no time limit dictating when the lessons are and how fast you should cover the material.
Udemy has top-rated instructors
What's a little effort finding highly rated courses taught by professional instructors it's not complicated. Following my search guidance from above, you won't have any problem finding an expert instructor teaching the subject you're looking for.
Udemy is great for beginners
Udemy is great for beginners who are interested in learning new job skills of any sort. Many of the courses offered are geared towards individuals with no prior knowledge of the subject they are looking to learn. As students progress from beginner to intermediate, there are plenty of masterclass courses for the more advanced students.
Many instructors even offer free beginner courses to build a reputation and then upsell you their intermediate or advanced courses once you have completed their introductory offer. 
Udemy has affordable courses
If you go to Udemy and you find a course you like taught by a professional, then more than likely the course will be valued at a couple of hundred dollars, but as we said, Udemy puts all the courses on sale all the time, offering you them at a 90% reduced price. Once you set up an account and have a sense of the courses you're looking for, you will wait a couple of days and watch your email; you will likely receive offers and discounts on many of these courses. 
Also, very frequently, you can find a coupon for any course you like if you are willing to do a little searching.
Cons of Udemy
Binge-watching
The one thing to note and understand is that you can get very caught up watching binge-watching video after video and not genuinely absorbing the information being provided. Be careful and not just watch all the videos without implementing and practicing what you have learned in a practical scenario.
Good courses and instructors are hard to find
There are plenty of professional instructors and courses available, but you have to wade through quite a lot of fluff before you come across a course that is worth your time and money. This can sometimes be frustrating, but getting a $150 course for $19 can make it worth the effort.
Udemy is not interactive
If you purchase a course on Udemy, even from a top-rated professional, do not be surprised if you have a query you pose under the Q/A section, and you do not get a response. Some courses have thousands of students asking hundreds of questions, and for the most part, the instructors tend not to answer. Udemy is not known for its instructor-student rapport.
Udemy is not the best in this sense and a practical format. Most of the courses or lessons will tell you what to do and how to do it, but it is up to you to implement what you have learned. Courses rarely offer projects or similar practical examples that you can go and work on.
Pricing is widely inconsistent
We've said that you can find any course at one time or another for the price of approximately $10. However, if you are new to Udemy, the pricing scheme can be very frustrating, offering courses at a discount then a discount again. You may have purchased a course only to find the next day it's on sale at 90% of its original value. This makes it unclear when you should actually buy a course.
How to choose a course that is right for you?
The best thing for you is to decide on a skill you wish to learn and then find an instructor with many enrolled students with a significant number of good reviews. You can always watch the course overview, which typically has the instructor explaining and detailing what you will learn throughout their course. This is the best way to find a top-quality instructor and a good course.
Conclusion
Udemy is a user-friendly platform offering courses for almost anything, including business skills, hobbies, and life skills. Even though the prices range from $19 to over $200, you can typically find the course you want on sale for about $10 because Udemy is always offering courses on sale or coupons.
Besides learning anything, you can do so at your own pace from anywhere globally by using your laptop, PC, or mobile device, which makes it significantly suited for today's fast-paced lifestyle that many of us have to cater to.
If you use due diligence and sort through and sort and filter the list properly, there are many high quality courses and instructors creating informative and entertaining course content that teach valuable and employable skills. Combined with their 30-day money-back guarantee, you can't go wrong, making Udemy totally worth the effort.
By Bryan Greene