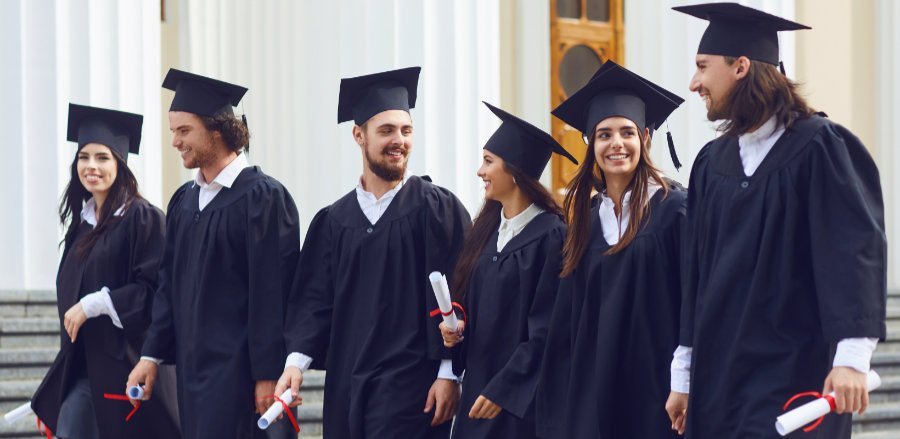 What is an associate's degree?
Higher education is an excellent way for someone to learn new skills and qualify for a better career. However, not everyone has the available time or desire to dedicate four years or more to finish a traditional bachelor's degree program.
An associate's degree is an undergraduate program structured to provide the skills and academic knowledge needed for employment in a chosen field. While some universities offer associate's degrees, they are more commonly offered at community colleges, junior colleges, technical schools, and online programs.
Associate's degrees offer high school graduates a faster, more affordable path to higher education than a bachelor's program. Starting you're post-secondary education by earning an associate's degree will open up a world of exciting and financially rewarding employment opportunities for newly qualified job seekers.
How many credits for an associate's degree?
An associate's degree requires fewer credit hours than a bachelor's program. Most associate programs only require students to complete 60 credit hours to earn their degrees. Suppose a graduate decides they would like to continue furthering their education. In that case, the credits they earned may be transferable towards a four-year degree, depending on several factors, such as an individual school's policies regarding transfer credits. Students who want the credit hours from their associate's degree to count towards a bachelor's degree will need to check with their academic counselor to ensure they will carry over.
How many years is an associate's degree?
It is well-known that an associate's degree can help someone reach their career goals in less time than getting a full bachelor's degree. The exact amount of time this degree takes can vary based upon how specialized the training is and what school is offering it. How long is your degree takes also depends on whether you are a full-time or part-time student. This can lead to students asking themselves, "How long is an associate's degree program going to take?" Generally, this form of higher education is known as a "two-year degree" because that's how long a student can expect the program to take. Accelerating the process is possible because many online programs encourage students to work at their own pace, allowing them to earn their degree in 18 months or less.
What are the 4 types of associate degrees?
While someone can earn their associate's degree in dozens of specialties, all of these degree will fall into one of four major categories. An Associate of Arts Degree (or AA Degree) is generally undertaken by a student that is planning to continue on to finish a 4-year college degree, maybe in the field of liberal arts. Similarly, students who plan to earn an advanced degree in a science field at a later date often start by earning their Associate of Science Degree, or AS Degree.
The other two categories offer degrees with more narrow fields of study. They're popular with students who are completing a two-year program in pursuit of a specific career. The first of these, an Associate of Applied Science (or AAS degree), helps students learn the technical skills they'll need to succeed in a specific field of science, technology, engineering, or math. An Associate of Applied Arts or AAA is an ideal degree for anyone who wants to develop the specific skills that will help them land a job in business, art, early childhood education, fine arts, or humanities-related field.
Highest paying jobs with an associates degree
Not all high-paying jobs require the graduate-level education of a master's degree. According to the Bureau of Labor Statistics (BLS), the following careers are the highest paying jobs that someone may qualify for after they have earned their associate's degree.
1. Air Traffic Controllers
 Average Median Salary: $122,990 – Projected Job Growth 2019-2029: 0.5%
 By far the highest paying job on this list, air traffic control is a fast-paced, stable career choice. An Air traffic controller is responsible for monitoring and safely guiding aircraft while in the air and on the ground. They also direct the flow of aircraft to keep traffic running smoothly and safely. People interested in this career can expect to spend less than a year at a technical school, followed by two to four years of paid on the job training before becoming certified.
2. Radiation Therapists
 Average Median Salary: $85,560 – Projected Job Growth 2019-2029: 7.1%
 Radiation therapy is a highly skilled field that pays qualified employees well. In addition to the specific skills they gain during their academic program, radiation therapists should also be detail-oriented and compassionate. People in this field, work closely with oncologists to treat tumors using specialized machinery to deliver targeted doses of radiation exactly where it will have the most impact. It takes two years for students to earn an associate's degree to give them the qualifications they need for this career in the health industry.
3. Nuclear Technicians
 Average Median Salary: $82,080 – Projected Job Growth 2019-2029: -18.9%
 One of the best-paying jobs with an associate's degree in science is that of a nuclear technician. This job may not have many openings, but it is still a good career choice. Nuclear technicians generally work in one of two career branches. Researchers work in laboratories with physicists and engineers, while production specialists typically work in nuclear power plants. All nuclear technicians use highly specialized equipment to test for radiation levels and contamination. Training for this career can take as little as one year.
4. Nuclear Medicine Technologists
 Average Median Salary: $77,950 – Projected Job Growth 2019-2029: 5.4%
 The growing field of medical nuclear technology offers a chance for associate's degree holders to earn a high salary in a cutting-edge field. Nuclear medicine technologists work alongside other healthcare professionals to conduct medical research and test patients. They do this by preparing doses of radiopharmaceuticals (medicines containing radioactive materials), administering the medication, and using specialized scanning equipment to follow the path of the medicine through the patient. Graduation from an associate's degree program that provides clinical training is required for this career. It can be completed in just two years.
5. Funeral Home Managers
 Average Median Salary: $76,350 – Projected Job Growth 2019-2029: -5.7%
 Those who may want to work in the funeral industry without becoming an undertaker or a mortician may be interested in pursuing a funeral home manager's career. This career focuses on the business administration side of the funeral industry. It includes tasks like setting a funeral home's prices and managing their facilities. It only takes two years to earn a degree recognized by the American Board of Funeral Services. Still, candidates will also need to pass a nationally administered board exam and complete a lengthy internship in order to develop the business management skills required to be a funeral home manager.
6. Dental Hygienists
 Average Median Salary: $76,220 – Projected Job Growth 2019-2029: 5.9%
 Dental hygienists are dedicated to making people smile. These healthcare professionals work closely with dentists to improve the oral health of their patients. A dental hygienist cleans teeth, examines patients for obvious oral issues, and provides information about healthy dental habits. In some states, dental hygienists also place and shape fillings, remove stitches and apply dressings to patients. Starting a career in dentistry can be done in two to three years with an associate's degree in dental hygiene.
7. Diagnostic Medical Sonographers
 Average Median Salary: $74,320 – Projected Job Growth 2019-2029: 16.8%
 As one of the five fastest-growing job fields on this list, the career of diagnostic medical sonography is a great option for people seeking job stability. Diagnostic medical sonographers (often shortened to just sonographers) use specialized equipment that create images of various body parts using sound waves. Sonographers analyze the videos and photographs they capture to help physicians diagnose and treat a range of ailments. Prospective sonographers can be certified in as little as one year if they have previous healthcare training or two years with no prior experience.
8. Web Developers & Digital Interface Designers
 Average Median Salary: $73,760 – Projected Job Growth 2019-2029: 8% 
 These two careers in computers are closely related. Web developers are responsible for the design, creation, and maintenance of websites. Digital (or user) interface designers are responsible for developing websites' layout and making sure their features and menus work as intended. Web developers can begin working after as little as six months, even if they have no prior knowledge of the industry. Digital interface design certification takes slightly longer, with a degree course taking between two and four years.
9. Magnetic Resonance Imaging Technologists
 Average Median Salary: $73,410 – Projected Job Growth 2019-2029: 7%
 Like many other healthcare careers on this list, magnetic resonance imaging (MRI) technology has a bright future. MRI technicians guide patients through the imaging process, preparing them for what to expect, help ease their nerves, administer intravenous drugs, and run complex magnetic resonance scanning machines. Certification for this career takes one to two years, followed by field training that allows people to develop their skills while getting paid.
10. Avionics Technicians
 Average Median Salary: $65,700 – Projected Job Growth 2019-2029: 4.4%
 Avionics technicians are the driving force behind safe air travel. Strong attention to detail and the ability to stay organized are required for this essential career. Keeping maintenance records, logging repair work, and installing equipment are just some of an avionics technician's daily tasks. They also make sure the radar, navigation, and missile control systems of air and space craftwork properly at all times. It takes approximately 18 to 24 months for someone to become certified as an avionics technician.
11. Computer Network Support Specialists
 Average Median Salary: $63,460 – Projected Job Growth 2019-2029: 6.4%
 More widely known as tech support, the field of computer network support continues to grow every year. Tech support specialists are responsible for identifying, analyzing, and fixing issues that impact the stability of computer networks. Performing preventative maintenance, such as backing up files, is also responsible for computer network support specialists. It is possible to start a career in information technology with an associate's degree. Still, many computer network support specialists continue to develop their skills with further education.
12. Calibration Technologists & Technicians
 Average Median Salary: $62,990 – Projected Job Growth 2019-2029: 2.1%
 Almost every sector of the manufacturing industry relies on the work of calibration technologists and technicians to keep things running safely and efficiently. These highly skilled workers regularly inspect equipment and instruments and test them to make sure they work. They also conduct routine maintenance and necessary repairs. Five years of full-time work experience is required to apply for certification as a calibration technician. Still, candidates can apply to waive some of that time if they have an associate's degree.
13. Occupational Therapy Assistants
 Average Median Salary: $61,510 – Projected Job Growth 2019-2029: 34.6%
 According to the BLS, occupational therapy assistants is by far the fastest-growing employment field that requires an associate's degree. Occupational therapy assistants (OTAs) work to improve the lives of patients who are struggling because of an illness, injury, or long-term disability. Occupational therapists may evaluate the issue and create treatment plans. Still, OTAs are the ones responsible for helping patients carry them out. A two-year program will qualify someone to become certified as an occupational therapy assistant.
14. Respiratory Therapists
 Average Median Salary: $61,330 – Projected Job Growth 2019-2029: 19.4%
 In this quickly growing medical career, respiratory therapists (also called respiratory care practitioners) work closely with a medical team to treat patients suffering from reduced lung function. Compassion, patience, and exceptional people skills are important qualities for a respiratory therapist because they regularly interact with patients who may be frightened by their breathing difficulties. Certification processes for respiratory therapists vary by state. Still, an associate's degree can lead to an entry-level position in this specialty.
15. Radiologic Technologists & Technicians
 Average Median Salary: $60,510 – Projected Job Growth 2019-2029: 6.7%
 These two careers both center around radiology equipment but have very different roles in the healthcare industry. Radiologic technicians work directly on the equipment itself, making sure it is well-maintained and fully functional. Using radiology equipment to examine patients is the specialty of radiologic technologists. Both careers can be started after a student spends as little as six months completing their education.
16. Engineering Technologists and Technicians
 Average Median Salary: $59,620 – Projected Job Growth 2019-2029: 2.5%
 Like the previous entry, these careers involve working with the same equipment in different ways. Engineering technologists work closely with engineers to improve products, manufacturing processes, and construction techniques through the application of technology. Engineering technicians, on the other hand, install, test, maintain, and repair specialized equipment across a variety of industries. A two-year degree is required for either specialty.
17. Physical Therapist Assistants
 Average Median Salary: $58,790 – Projected Job Growth 2019-2029: 32.6%
 Secondly, only to occupational therapy in terms of projected job growth, the field of physical therapy is one of the most promising career opportunities for someone with an associate's degree. Physical therapist assistants (PTAs) help patients understand and follow treatment plans in order to help them improve their mobility and range of motion. Every state requires physical therapist assistants to obtain an associate's degree, which typically takes five semesters.
18. Legal Support Workers, Other
 Average Median Salary: $58,400 – Projected Job Growth 2019-2029: -1.2%
 Seeing the word "Other" after a career field can be confusing if someone is unfamiliar with how the BLS divides closely related careers. The BLS gathers data on paralegals and title examiners individually while grouping secretaries and other legal support workers together under the "Other" heading. 
These well-paid specialists assist lawyers with record-keeping, document filing, scheduling, and other secretarial and administrative tasks. To get a job as a legal support worker, a person must hold a relevant associate's degree and be able to pass a standard background check.
19. Cardiovascular Technologists and Technicians
 Average Median Salary: $57,720 – Projected Job Growth 2019-2029: 5.4%
 Health science careers are known for their job security. With steady projected job growth, it's no different for cardiovascular technologists and technicians. Both of these careers have skills essential for the medical treatment of heart and circulatory system issues. Cardiovascular technologists work closely with cardiologists to administer tests and implement treatment plans for patients suffering from heart or vein issues. 
Cardiovascular technicians specialize in conducting electrocardiograph (EKG) tests that provide information about how a patient's heart is functioning. An associate's degree, along with a certification, and on-the-job training are required for someone to become well-qualified in either field.
20. Drafters
 Average Median Salary: $56,830 – Projected Job Growth 2019-2029: -3.5%
 Technology may have changed the technical skills needed to become a drafter, but it is still a viable career choice. Throughout time, drafters have worked to turn architects and engineers' conceptual visions and sketches into technical drawings, like blueprints. Modern drafters use software to make their works as precise as possible. 
These plans are essential for everything from the creation of a microchip to the construction of an auditorium. It takes anywhere from 18 to 24 months to earn an associate's degree in drafting. But earning a certificate or diploma in a category like computer-aided design (CAD) software can be done much faster.
21. Morticians, Undertakers, and Funeral Arrangers
 Average Median Salary: $54,140 – Projected Job Growth 2019-2029: -2%
 While not for the squeamish or those afraid of death, becoming a mortician, undertaker, or funeral arranger is an ideal job for someone who wants to help others navigate through difficult times. Compassion, well-developed interpersonal skills, and a calm demeanor are helpful tools for anyone starting down one of these career paths. 
A mortician is also known as a funeral director. They are responsible for handling the details and paperwork surrounding the funeral, burial, and cremation processes. Undertakers prepare bodies for visitations, burials, or cremations. Funeral arrangers meet with families to help them schedule and plan different parts of the funerary process. A two-year degree, a short apprenticeship, and licensure are needed for all of these careers.
22. Veterinary Medical Technology
Average median salary: $35,320 – rejected job growth 2019 – 2029 16%
Veterinary technicians or vet techs assist the Veterinarian in diagnosing and treating animals. Their job includes collecting and testing urine, blood, stool, and cultures. Under the Veterinarian's direction, they are responsible for administering medication, vaccines, anesthesia for surgery, taking x-rays, bathing, and restraining animals during procedures. 
Associate degree programs for veterinary technicians take approximately two years. Alongside the veterinary training, an emphasis is also given to English, business, history, technical writing, and record-keeping. If you enjoy caring for animals, a career as a veterinary technician may be for you.
23. Radio, Cellular, and Tower Equipment Installers and Repairers
 Average Median Salary: $55,380 – Projected Job Growth 2019-2029: 3.7%
 Modern communication would not be possible without this crucial career sector. Travel is usually a requirement of these jobs to keep cellular, mobile broadband networks, aircraft, ships, emergency vehicles, and average citizens connected to radio. A fear of heights may disqualify someone for these positions because job requirements often involve climbing high onto communications towers. Completing a two-year degree or gaining equivalent hands-on training is needed to become qualified to install or repair radio, cellular, or tower equipment.
In short
If You are interested in one of these as a new career path, completing an associate's degree program could be the first stepping stone on their rewarding future. On average associate degree holders earn an average of $7,300 more than high school graduates and about $10,000 less than a bachelor's degree. There are many programs that offer online courses. Many of these are private schools that may also offer certificate programs along with undergraduate degree and some can even provide field experience and entry-level jobs placement.
If financial aid is a concern you can refer to the Federal Student Code List or contact the institution's financial aid office directly.
By Bryan Greene