What is a Paralegal?
A paralegal, sometimes considered a legal assistant, supports a lawyer or a law firm by helping prepare legal documents, researching court cases, and assisting attorneys in trials. 
What Does A Paralegal Do?
Paralegals have the ability to "prepare civil documents such as wills, contracts, mortgages, and separation agreements; interview witnesses and clients; and maintain communication with clients." (criminaljusticedegreeschools.com) 
While paralegals have the ability to assist an attorney in all of these aspects, they are not allowed to perform tasks that are seen as "practicing law." Instead, they are only allowed to perform tasks given by a lawyer(criminaljusticedegreehub.com).
Do paralegals need a degree?
According to the American Bar Association (who certifies lawyers), "Presently, there is no mandatory certification examination for paralegals anywhere in the United States." Therefore, technically, one does not have to receive any certification or schooling to become a paralegal. However, with that being said, it is recommended that aspiring paralegals seek out at least some certifications or relevant experience, such as a one-year certification, an associate's degree, or even a bachelor's degree.
How to Become a Paralegal?
The American Bar Association (ABA) does certify some programs offered to become a paralegal. 
The best resource for finding a certified paralegal program is through the American Association for Paralegal Education. On their website, you will find resources to weigh the options for the desired route of education. Internships should be required as part of the education.
Paralegal Career Path
Once a paralegal certification level has been attained, it's time to get some experience and get specific about which practice you want to pursue. 
Here is a list of a few of the different fields a paralegal can specialize in.
Family

Litigation

Business

Real Estate

Intellectual Property

Compliance

Disability

Contract Administration
Paralegal Salary and Job Prospects
According to the Bureau of Labor Statistics, the salary of a paralegal or legal assistant ranged from, "The lowest 10 percent earned less than $32,900, and the highest 10 percent earned more than $85,160." Thus, the median pay is around $52,920.
According to the BLS, paralegals and legal assistant jobs are expected to grow 10% from 2019-2019.
Online courses for Paralegal Certification and Career Exploration
Whether you're serious about becoming a paralegal or just exploring the opportunity, there are online courses available to get you started on your journey or just to explore the career path.

This instructor-led course bundle from Everett Community College in Everett, WA. covers the basics skills needed to be a successful paralegal. Discover the many aspects of paralegals by learning the fundamentals of Legal Terminology, Contract Law, Conducting Interviews and Investigations, Writing Briefs, and preparing for Appeals. Included with the main course, you will also receive courses in Effective Business Writing, along with Introduction to and Intermediate Courses in Microsoft Word and Office 365. If you're serious about becoming a paralegal, this is an excellent place to start.  
This self-paced course is taught in conjunction with Everett Community College in Everett, WA. It has 225-course hours of instruction and offers a voucher to cover the certification exam cost at the end of the course. You will also receive membership and access to NALA's Certified Paralegal (CP) Exam Review courses should you choose to take the National Association of Legal Assistants, Certified Paralegal exam at a future time. 

Penn Foster Offers a self-paced, affordable online Paralegal Career Diploma Program that can help prepare you for a career as a paralegal. In this program, you will learn vital entry-level skills in legal writing, court documents, and legal research. You will also receive access to the LexisNexis® legal research website and learn how to use it. 
If you are interested in furthering your career, you can also transfer many of your lessons to Penn Foster College's Paralegal Studies Associate Degree Program.
License through the State of Arizona Penn Foster's Paralegal Associate's Degree is designed to prepare students for entry-level positions as paralegals or legal assistance. The course offers a 24/7 on-demand learning platform with access to your instructors and classmates through text, phone, email, and chat.  
Udemy paralegal courses
If you're not sure if a career as a paralegal is for you and would like to learn more about the job and its duties, Udemy offers several courses that may help you decide. 
Paralegal Power Breaks is a free course covering different aspects of being a paralegal, such as career advice, legal research, litigation, and trial procedures.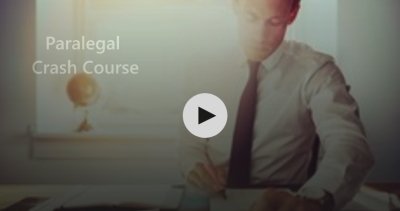 If you're still intrigued and want more, the Paralegal Crash Course goes into more detail about how to become a paralegal, the day-to-day duties of a paralegal, the basic skills necessary to be a paralegal and the different areas of specialization. 
Created by Harvey Zeytuntsyan a successful lawyer and faculty member at his local Community College. This course provides a concise, multi-perspective overview of the professional paralegal. It can be helpful for those who have recently completed a college program, those in college or university currently and exploring career paths, and experienced office workers who are considering a career transition into the legal field.
Some final thoughts
Online courses are a great way to upskill for a job and there are many fields of study where are an online education can be obtained inexpensively through multiple sources and many of those are even free.
That said I do not believe Paralegal is one of these. As stated earlier in this article it is not strictly required to have a degree or certification to be a paralegal but given the seriousness of the work, I do not believe there are many employers willing to take a chance on someone that can't prove they have the skills necessary to be a successful paralegal.  
By Hannah Greene