Employing younger employees certainly does come with its challenges. Junior members of your staff will need more training, and younger employees may need more supervision. However, young people do have a great deal to offer. A young employee can bring fresh ideas to the company, and they may provide an injection of enthusiasm into a team.
One of the main objections that some employers have about recruiting trainees is that young, ambitious workers may not stay in the same job for long. The business will spend time and money training a junior member of staff, and then that person will take the knowledge they have gained and put it to use at another company.  
However, if you can encourage and nurture an enthusiastic junior member of your team, you could end up with an incredibly valuable asset on your hands. You could wind up with a homegrown go-getter who knows your business inside out. 
Here are twelve tips on how to retain junior employees and how to help them to achieve their full potential within your business.               
1. Offer A Career Path
If you want to keep the top-flight trainees and junior staff, you are going to need to offer your younger employees the opportunity to grow with the company. In large companies, there will likely already be a well-defined career path laid out for trainees. 
In small companies, the career path may be less well defined. Even so, small businesses still have a lot to offer junior employees. 
In a large organization, the next step might be a promotion within a large department. In a small company, the next step might be taking on more responsibility or perhaps supervising a project or a small team. The crucial thing is to make sure that young employees know what their next step up the ladder will be. 
2. Encourage On-The-Job Learning
Ambitious young people will always want to learn more. They will not be satisfied with sitting still in the same role for too long. Young people must be given new challenges and new things to learn. If you want to get the most of your junior staff, you are going to have to keep on feeding their thirst for knowledge. 
If they believe that there is nothing left for them to learn at your business, they will start looking for new challenges elsewhere. There are dozens of online sites that offer free and paid courses and encouraging or even allocating time during the week for professional development lets them know you expect great things from them.
3. Offer External Training Opportunities
It would also be wise to offer young employees the opportunity to gain additional qualifications in their chosen field. To allow young employees to expand their knowledge might mean giving them time off work to study or to attend training courses and pursue certifications.
Conferences and Seminars related to your business are also excellent ways for junior staff to learn about your industry, the major players, and how they all fit together.
Of course, your trainees could walk away as soon as they have achieved these qualifications. But if you can tempt them to stay with your company, you will have a well qualified member of your staff who is extremely knowledgeable about how your business operates. And your business can benefit from the latest ideas, techniques, and even contacts that your trainees gain from their external training.
4. Make Junior Employees Feel Like One of the Team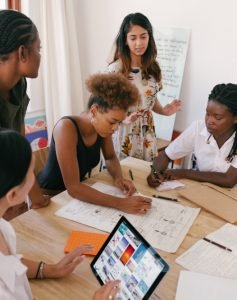 Younger employees will, of course, be less experienced than more seasoned members of your staff. Even so, your young trainees are still members of the team, so involve your junior employees in the same activities as the more senior members of the staff. 
Don't exclude trainees from team meetings, for example, and do encourage younger members of the team to voice their opinions. Young people may be a bit reluctant to speak up at first, but if you make them feel like one of the team, you will get a lot more out of your junior employees.
5. Explain To Young Employees Their Contribution to the Wider Objectives 
Junior members of staff will usually be given non-critical tasks to perform. Those tasks in themselves may not be crucial to the success of the business. Even so, the jobs that your junior team members do still play a part in achieving the organization's objectives. 
Younger employees mustn't feel like they are an unimportant, tiny cog in a large piece of machinery. So explain to your trainees where their roles fit into the larger picture and explain how what they are doing contributes to the success of the company.
6. Give Ownership of Projects

Instead of only giving junior members of staff small pieces of work, try giving them ownership of entire projects. Giving trainees specific projects will help enhance their self-worth, and it will help you assess the employee's performance. If your trainee's role involves doing the same task every day, the occasional one-off project might also highlight other skills that the person has.
7. Listen to Ideas
Try not to fall into the trap of thinking that younger people have everything to learn and nothing to teach. You may have been doing the job for thirty years, but some fresh ideas might bring some surprising benefits. At least listen to junior employee's ideas, and if you disagree with their suggestions, take the time to explain why a trainee's suggested approach would not work.
8. Show Junior Employees the Wider Picture

It is a good idea to allow junior staff to see how the business runs. Try to help young employees understand how all the pieces of the organizational jigsaw fit together. You could, for example, allow a junior team member to spend some time in each of the various departments of your business. 
If younger members of staff see more aspects of the business, they will feel more connected to the company. When your younger employees see more of how your business works, it may also give them ideas about how they want to progress within your company.
9. Don't Be Too Quick to Pigeonhole Junior Staff

Young people are still finding their feet in life. They may not yet have decided on a firm career choice. If a bright and enthusiastic employee asks to change jobs within the business, don't be too quick to say no. 
You will still need to look at their qualifications for the role in which they are interested. You might even suggest that you're open to the possibility but at the moment they need to work on their qualifications and provide them with a roadmap of how to gain them.
You should always put the needs of the company first, but always remember, that young person that is employed in your finance department could yet turn out to be the highest performing salesperson in your business! 
10. Provide Financial Rewards

You will no doubt be paying your junior staff a lot less than you pay your experienced, better-qualified employees. However, young people are still going to want to see their pay increase in line with their growing experience and skills.  
So don't forget to reward your junior staff well for their efforts and when they do a good job, tell them so. Salary levels matter to everyone. But for a youngster, seeing the size of their salary growing year on year is what matters the most. 
11. Be Family Friendly

Many younger employees are just starting a family. Being a family friendly employer can help build a sense of security. Some ways to achieve this are Flexible schedules to allow young parents to take their kids to daycare or school before coming to work or allowing them to come in early so that they can pick their child up at the end of the day.
Depending on the job requirements, allowing for telecommuting days so parents can take care of a sick child and not use their own Sick Time or PTO can also foster a sense of family security encouraging high-value employees to stay put. 
12. Encourage Community


Celebrating and recognizing Personal Milestones is a simple way to create a sense of community among your staff.  Make it a point to recognize birthdays and work anniversaries. Passing around a birthday card for everyone to sign. Organize team potluck luncheons for special occasions or schedule once a month for all the birthdays and work anniversaries that month. 
Conclusion

If you do have a top-class trainee on your team, you are going to have to work hard to keep them on board because when you are young, ambition often comes before loyalty. Even so, hopefully, the above tips will help you retain your junior employees and help them reach their full potential.
Although these suggestions are all aimed at younger employees, they can work well towards more seasoned employees that may find themselves becoming bored, unchallenged, and possibly looking to make.
By BG Greene
If you found this helpful
Please consider sharing